Hon. Chairperson of Presidium, Mother's Pride and The Knowledge Tree, Sudha Gupta's is an extraordinary story of an educationist who had the courage to pursue her dreams.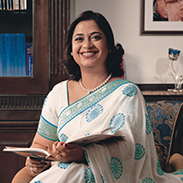 She became an entrepreneur when she started a preschool in 1996. What started then, as a one-room operation, is today a diversified group, with India's most loved preschool and the fastest growing chain of schools in Delhi-NCR. Mother's Pride Preschool redefined the nature of early education in the country with its scientific approach, specialised staff, R&D, and emphasis on child psychology.
To bring the concept of holistic education to formal education, she established Presidium Senior Secondary School. Presidium, whose mission is to create the leaders of tomorrow, stresses on the all-round development of a child's personality rather than mere academic excellence. To realize its goal, the school champions the concept of holistic education, focusing on academics, life skills and talents.
Mrs. Sudha Gupta is also one of the nation's most sought-after parenting experts. As the Chairperson of Mother's Pride chain of pre-nursery schools and Presidium Senior Secondary School, Sudha Gupta uses her extensive experience in dealing with parents and children to pen down some inspiring tips on positive parenting, a subject very close to her heart. She has written more than 1000 articles on the subject of parenting in leading newspapers and magazines like the Times of India, Hindustan Times, India Today and Femina. She has also authored several books on early childhood education and parenting. Her seminars, publications, and TV and radio programs on parenting have touched the lives of thousands of parents.
She also runs Sparsh Special School for the children with special needs. With vocational training, therapy and expert guidance, the school trains such children so that they can transform themselves into self-sufficient, productive members of society.